"I'd get everything in carbon-fiber if I could." Rebecca Cintron shares her Z Mandolin story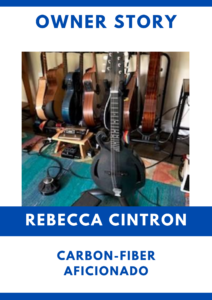 Rebecca Cintron is no stranger to carbon-fiber instruments. Carbon-fiber guitar? Check. Carbon-fiber violin? Check. Carbon-fiber cello? Yup. Carbon-fiber ukulele? You guessed it. She owns one of those too.
So, when she began her search for a mandolin that would be a fitting addition to her collection, she knew exactly what she was looking for.
"What I discovered in playing carbon-fiber instruments is that the tuning, of course, remains intact and spot on much longer than traditional wooden instruments and the sound is quite comparable, so they tend to be good quality instruments." said Cintron.
Cintron already owned a Breedlove O-style mandolin that she adored, but, as a New Englander and owing to the famously dreadful and capricious New England weather — weather that Mark Twain once described as "always doing something there; always attending strictly to business; always getting up new designs and trying them on the people to see how they will go." — she wanted an instrument she could travel with that wouldn't be so susceptible to the fluctuating environmental changes.
However, Cintron's search proved harder than she expected. "They're not very common, but there are a few luthiers out there," she lamented. "So, I just started doing some reading and researching and because of the pandemic there was a lot of delay in being able to make a commitment to those instruments. I talked to a luthier who thought his mandolins wouldn't be ready for six or eight months and they were about $1,000 more than the Z Mandolin."
After an online search that brought her to the Z Mandolin website, Cintron was immediately impressed with what she saw and heard: "I listened to the sound files online and liked the sound. So, I ordered one, I got a pickup put in it, it came, and it is as good as I expected it to be. It's just rock solid, it holds its tuning, and I think it sounds great. So, I'm really happy with the purchase."
And — while the coronavirus pandemic has kept Cintron from travelling as much as she would like to — she has had a few opportunities to safely test the Z Mandolin's traversability: "I took it with me to New Hampshire for the 4th of July weekend and, again, in a new environment, I didn't have to tune it or you know when I went to check the tuning it was just spot on. I think that's one of the strongest things about these types of instruments that I've found. The sound quality and being able to maintain a consistent tuning is just terrific."
Beyond the fact that the Z Mandolin makes traveling with an instrument almost hassle-free, Cintron is also impressed by the Z Mandolin's sound and playability: "The playability is exactly the same as my Breedlove mandolin. It's really not that different. I think what I guess people are maybe worried about is that carbon-fiber instruments sound a little tinny, but I don't think that that's the case at all, that has not been my experience relative to playing the other instruments."
Z Mandolins integration of progressive design, high-quality materials, and world-class sound result in an instrument that is at once modern and timeless. And, although Z Mandolins is a highly-specialized instrument manufacturer, they take great pride in delivering a unique, individualized, musical experience for their customers.
"They're competitively priced, they're very attractive, you have the option for a pickup, and you can certainly experiment with a variety of strings." said Cintron. "So, if you're in the market for something that holds its tuning and has that consistency and travelability, Z Mandolins are a really nice choice. And, Lee is awesome to work with. He communicated so nicely with me and gave good feedback. It was really a pleasure doing business with him."
For more information about how you can purchase a Z Mandolin of your own go to: www.zmandolins.com