AN UPDATE FROM THE PROUD OWNER OF Z MANDOLINS #2 & #4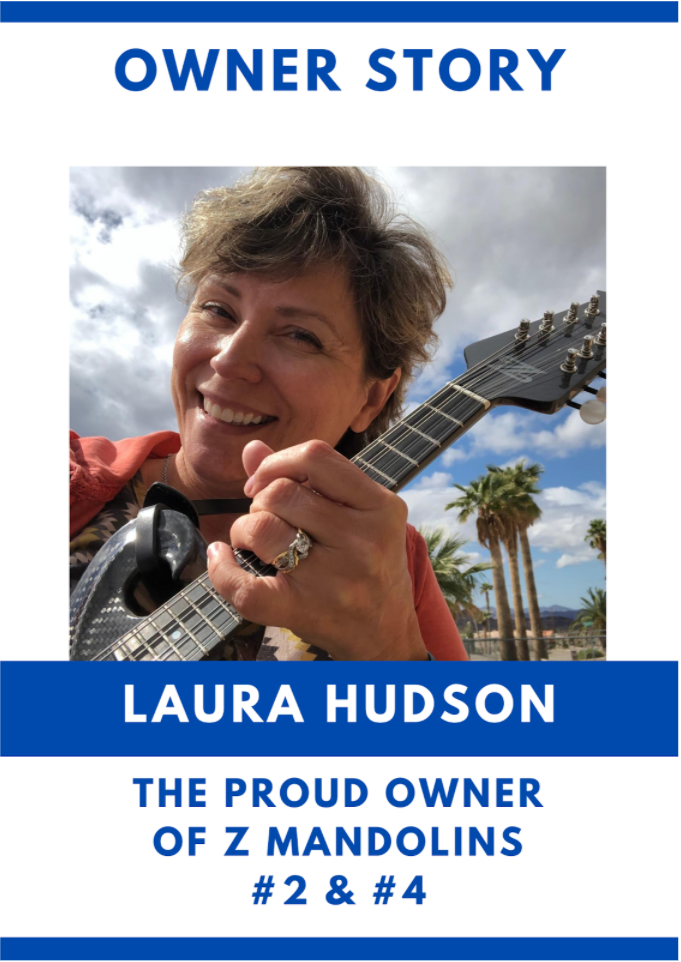 Laura Hudson is a professor at Alaska Pacific University teaching graduate-level coursework in their MBA program. She is also a research nurse studying diabetes who splits her time between traveling from her home in Arizona to Alaska multiple times each year. Much of her work requires her to travel to remote villages in Alaska throughout different times of the year and music plays an important part of Laura's life and research.
"I like to travel with my music, I'm not a professional musician, but I just love music, it's part of my personality and how I relieve stress with my job and kind of build relationships with people," says Laura. "There's a language barrier sometimes, I go to remote villages and they speak native languages so music is a way to bond and try and get past that a little bit, build trust and bring a smile to somebody's face."
Laura was struggling to find an instrument she could travel with hassle-free. Traveling with her guitar was cumbersome and stressful. It was too large to fit in carry-on and too anxiety-inducing to think about what happened to the instrument as it left her hands and joined the full flight's worth of bags in the plane's cargo hold. Laura also needed an instrument that could handle the journey once she got off the plane.
As she explains, "Typically, in Alaska I'm kayaking, I'm camping, I'm hiking. I have a boat we go out in Prince William Sound and do some deep sea fishing for salmon and halibut and things like that. We have a remote cabin in the Chickaloon, so it's a very small little village north of Anchorage and a log cabin with no running water or electricity so I take it out there and I like to play around the campfire."
She did have a smaller Eastman mandolin — given to her by her father — but it's fragility and susceptibility to heat and humidity didn't allow for the constant change in elements that Laura needed it to stand up to. So, Laura began searching for a carbon-fiber alternative and that's when she was introduced to the handmade, carbon-fiber, Z Mandolin.
The Z Mandolin allows Laura to take her music with her in all of her travels. Thanks to the Z Mandolin's rugged, carbon-fiber frame, Laura no longer has to worry whether the instrument she puts in the overhead compartment in Arizona will be in the same shape when she takes it out to play in Alaska.
Laura says, "I came up [to Alaska] just a few days ago and I had it with me as a carry-on, no big issue, no problem whatsoever, no question by the airline people, they didn't give me "the look" — because it's small, it's little. I get back up here and I pulled it out and was playing it and I said, 'wow, I don't need to tune it, it's perfect.' It's always near-perfect, it holds a tune really well."
Beyond its durable frame, Laura is also blown-away by the Z Mandolin's world-class sound and playability:
"This has just been a dream to play and it doesn't affect my fingers because of the little bit of arthritis I have. It's a beautiful sounding instrument, I find the sound carries, the sustain is there, it's exceeding all my expectations."
In fact, Laura was so impressed with the Z Mandolin that she now owns two of the limited-run of only twenty-five that will ever be made. And, for every mandolin sold, Z Mandolins will donate $1000 to support the International Bluegrass Music Association Foundation (IBMA) Scholarship endowment fund.
Z Mandolins has helped Laura keep music in her life wherever she goes, providing her with a world-class instrument that holds its own in front of a campfire or inside a concert hall. And, it doesn't hurt that the Z Mandolins progressive design and race car-like finish draws a lot of attention at first glance:
"It's cooler looking than anything else I've got or seen my friends have with their instruments," Laura says. "I feel like I walk into the airport with a little bit of pride because it's slung over my shoulder and I'm like, 'They think I'm a professional or something, and here I am just this nurse traveling around for vacations and jobs.'"
For more information about how you can purchase a Z Mandolin of your own go to: www.zmandolins.com.